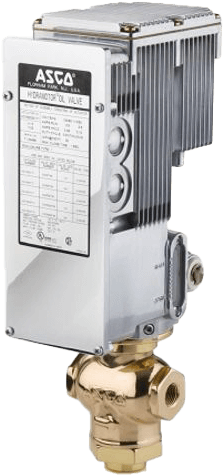 Images are representations only.
ASCO HOV1B Series HydraMotor Valves
Brand:
ASCO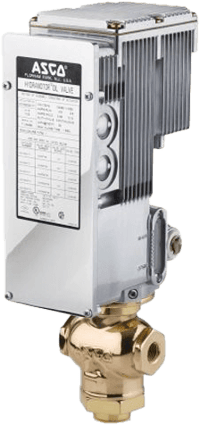 The ASCO Series HOV1B are bronze-bodied safety valves electro-hydraulically operated to provide reliable on-off control of fuel oil.

The valves´ spring-loaded, stem-guided PTFE seat opens within 9 seconds of power application and closes within 1 second of power interruption. The valves are agency-approved for fuel oil safety shutoff.

The HOV1B Series consist of a flexible two-piece actuator and the valve body design that is ideal for OEMs who want both actuator and body as a set, and for end users and distributors who want to minimize inventory by mixing/matching separate actuators and valve bodies.
Features
Self-contained, hermetically sealed, pull-type electrohydraulic actuator has motor/pump unit immersed in oil, reducing wear and enhancing reliability.
Rugged construction and broad ambient temperature range (-40F to 150F) permit use in challenging environments.
Type 1 General Purpose enclosure standard, optional Type 4, 7 Watertight and Explosion-proof enclosure for hazardous locations.
H118 Series offers 1-inch to 3-inch NPT and 4-inch flange end connections flow range from Cv 124 to 510 and operating pressures from 4 psi to 20 psi.
Visual indication of valve open & closed position is standard.
Optional valve seal over travel and electrical interlock proof of closure switch available.
Mountable in any position for installation flexibility.
UL Listed, FM Approved, CSA Certified.
Specifications
Function
2-Way - 2/2 Normally Closed
Maximum Differential, Maximum Operating Pressure
Operating Environment
Hazardous, Indoor, Outdoor
Pipe / Port Size
1, 1-1/4, 1-1/2, 2, 2-1/2, 3
Standards & Regulations
CSA, FM, Typical 1, Typical 4, Typical 7, UL