Images are representations only.
J-Series Miniature Pressure Switch
Brand:
ASCO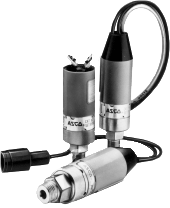 J-Series miniature pressure switches have factory-set non-adjustable set points and fixed deadband, with diaphragm/piston sensor.

J-Series switches are CSA approved and UL listed under "Industrial Control Equipment".

J-Series switches are sealed with specially compounded epoxy that maintains its sealing integrity from -40 to 250°F.
Features
Tamperproof, factory-set, non-adjustable set points.
Fixed deadband.
Environmentally sealed against dust, water, oil and salt spray, e.g., for off-highway equipment.
Vented construction for stable set points throughout operating range.
Vibration and shock resistant to 10 G's.
Precision electrical snap-action switch.
Specifications
Ambient Temperature Range
-20° to 60° C (-4° to 140° F)
Approvals & Certifications
Deadband, Approximate
bar: 0.08 to 0.82
kPa: 8.2 to 82.73
psig: 1.2 to 12
Diaphragm Material
316 Stainless Steel
Buna-N
Ethylene Propylene (EPR)
Fluorosilicone
Neoprene
Viton
Electrical Rating
11 A at 125 Vac
3 A at 28 Vdc
5 A at 125 Vac
5 A at 250 Vac
NPT Connection
1/4" NPT Female
1/4" NPT Male
1/8" NPT Female
1/8" NPT Male
Process Connection Material
316 Stainless Steel
Brass
Carbon Steel
Process Temperature
-20° to 82° C (-4° to 180° F)
Proof Pressure
bar: 17.24
kPa: 1,724
psig: 250
Set Point - Decreasing
bar: 0.44 to 9.51
kPa: 44.81 to 951.47
psig: 6.5 to 138
Set Point - Increasing
bar: 0.5 to 11.16
kPa: 58.60 to 1,116
psig: 8.5 to 162
System Pressure
bar: 0.45 to 17.24
kPa: 44.81 to 1,724
psig: 6.5 to 250