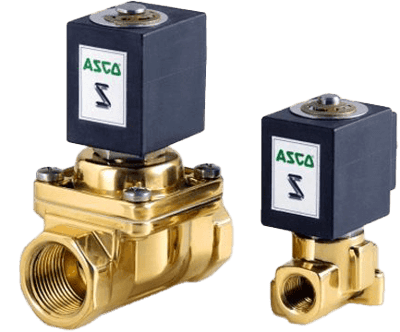 Images are representations only.
ASCO 240 Series Steam & Hot Water Solenoid Valves
Brand:
ASCO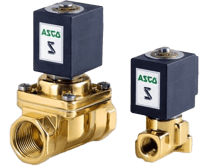 The ASCO 240 Series is a line of 2-way Normally Closed pilot-operated valves designed to handle the challenges of high-temperature fluids such as steam and hot water.

Available in AC voltages, with brass bodies, these valves are suitable for commercial kitchen, laundry, and heating equipment applications.
Features
Stainless steel seats improve life
Compact design save space in OEM products
DIN connection coils come standard
Satisfy all relevant EC directives
Specifications
Flow
From 0.1 Cv to 0.5 Cv, from 2.0 Cv to 6.0 Cv, from 6.0 Cv to 14.0 Cv
Function
2-Way - 2/2 Normally Closed, 2-Way - 2/2 Normally Open
Maximum Differential, Maximum Operating Pressure
Vacuum to 10.3 bar, Vacuum to 150 psig
Valve Actuation
Solenoid, Solenoid - Direct-Acting
Voltage
110 AC, 24 AC, 120 AC, 220 AC, 12 DC, 24 DC, 115 AC, 208 AC, 480 AC/50, 50/60, 60