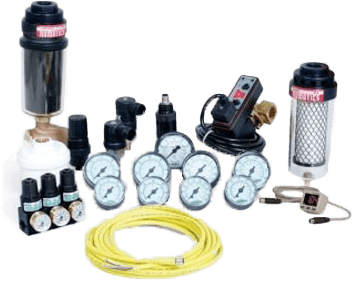 Images are representations only.
Numatics 180 Series FRL Accessories
Brand:
ASCO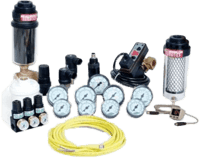 The Numatics' filter, regulator, and lubricator (FRL) accessories include mechanical pressure switches, oil reclassifiers, regulator gauges, FRL brackets, electronic drain valves, inline filters and specialty oxygen concentrator regulators. These products are available to improve the performance or ease of use of Numatics 651 and 652 Series FRL products.
Features
PS180 pressure switches provide accurate indication that proper system pressure is being achieved and are ideal for industrial multi-million cycle life applications
Oil reclassifiers remove oil mist and reduce noise from exhaust ports on pneumatic air valves, cylinders, and air control systems at extremely high flow rates
Electronic drain valves remove condensation from filters, receiver tanks, separators, drip legs, drain traps, and dryers at electronically controlled intervals
Inline filters protect small air tools by preventing foreign particles from entering the tool - extending component life and reducing downtime
Oxygen concentrator regulators are designed for applications requiring low-cost precision control
Pressure gauges provide maximum service life for pneumatic gauge applications and are designed to prevent premature gauge failure