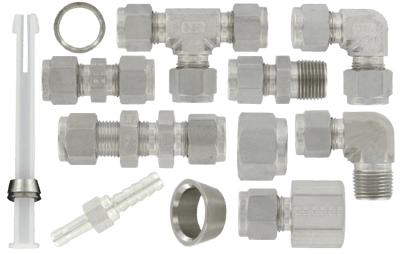 Images are representations only.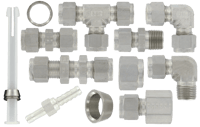 The Dwyer Series A-1000 quality tube fittings have been designed and manufactured to provide reliable leak-free connections in a wide variety of applications.

A reliable leak-free tubing system will be achieved by combining the proper selection and handling of tubing with the proper tube fitting selection and installation. The following information is provided to assist in the tube selection.

Material

The tubing material chosen must be compatible with the system's contained media, pressure and temperature, as well as with the environment in which it will be installed.

Also, the tubing and fittings materials should be similar for optimum sealing action to occur (stainless fittings for stainless tube, brass fittings for copper tube, carbon steel fittings for carbon steel tube, etc.).

The mixing and contact of dissimilar materials may leave the system susceptible to galvanic corrosion and/or not allow proper tube fitting makeup to be achieved.

Pressure and Flow

The size of the tubes outside diameter (O.D.) and the necessary wall thickness are determined by the system's pressure and flow requirements. Table A (see catalog page) details the suggested tubing sizes and wall thickness for use with instrumentation tube fittings.

If no pressure is shown on the table for a particular size, the tube is not recommended for use with instrumentation tube fittings. The tube system should not be utilized above the tube's maximum allowable working pressure.

Temperature

The system's operating temperature may affect the initial choice of tubing material and may also affect the maximum allowable working temperature for the given tube size (see Table B on catalog page for temperature stress factors).

Light Gas Service

To provide a successful connection for light gas service, the tubing must have a thick enough wall to provide resistance for the setup action of the ferrules to further compensate for the tube's potential surface condition.

Handling and Installation

Surface scratches and gouges on tubing are a source of potential leaks. Some precaution when handling the tubing can help reduce surface scratches and maintain the surface finish as originally intended by the manufacturer.

Tubing should never be dragged across rocks, blacktop, pavement, or tubing storage racks as scratches and gouges can occur. Sharp blades can cause internal and external hanging burrs, and cause the tubing to become oval and affect proper insertion within the fitting.

As a good handling practice, tubing should always be deburred prior to tube fitting installation to help assure easy and complete tube insertion. Additionally, for bent tube assemblies, it is important to bend tubing prior to installing tube fittings, and to provide a sufficient straight length of tubing after the bend to allow the tube to be fully inserted into the fitting.

Also, to eliminate weight stress from the tubing upon the fitting and to provide additional system support for vibration and thermal shock resistance, the tubing should always be supported by tube hangers, clamps or trays.
Specifications
Media
Compatible Gases
Liquids & Gases
Steam
Pipe Connection
1" Pipe (DN 25)
1/2" Pipe (DN 15)
1/4" Pipe (DN 8)
1-1/2" Pipe (DN 40)
1-1/4" Pipe (DN 32)
2" Pipe (DN 50)
3/4" Pipe (DN 20)
3/8" Pipe (DN 10)
Pressure Range
bar: 137.8 to 834.2
kPa: 13,789 to 83,426
psig: 2,000 to 12,100
Temperature Range
38° to 649° C (100° to 1,200° F)
Tube Connection
1" O.D. Tube
1/16" O.D. Tube
1/2" O.D. Tube
1/4" O.D. Tube
1/8" O.D. Tube
1-1/2" O.D. Tube
1-1/4" O.D. Tube
3/16" O.D. Tube
3/4" O.D. Tube
3/8" O.D. Tube
5/16" O.D. Tube
5/8" O.D. Tube
7/8" O.D. Tube