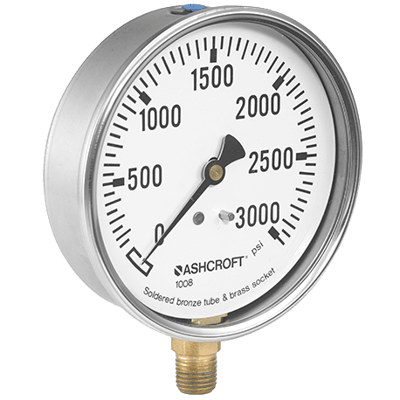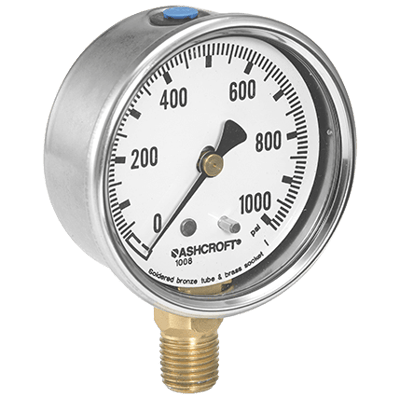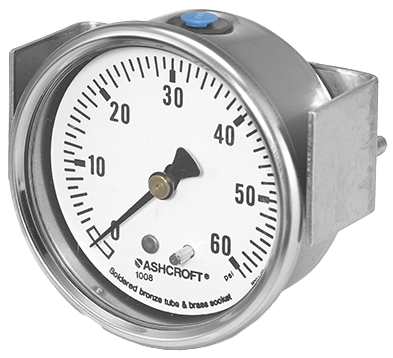 Images are representations only.
1008A/AL Stainless Steel Commercial Gauge
Brand:
Ashcroft Inc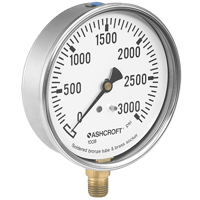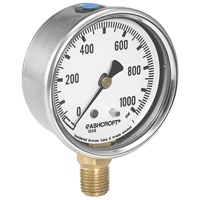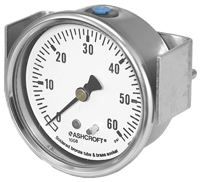 AshcroftType 1008A gauges are synonymous with durability, flexibility and exceptional quality.

The Type 1008A case and ring assembly is constructed of durable, corrosion-resistant stainless steel.

The gauge enclosure is sealed to provide maximum protection in adverse environmental conditions.

The core of the Type 1008A is the patented PowerFlexTM movement.

This movement provides a higher level of resistance to shock, vibration and pulsation than conventional gauge movements.

Both 63 mm and 100 mm Type 1008A gauges are available dry, field fillable, glycerin filled or silicone filled.

Weld nuts are standard on all back connection gauges, therefore, any back-connection gauge with the addition of a U-clamp accessory kit, can be panel mounted.
Features
63 mm (2-1/2") and 100 mm (4" case sizes)
Corrosion-resistant stainless steel case/ring
Dry, field-fillable or liquid-filled versions
Patented powerflex movement
True zero indication, a unique safety feature
Two-year warranty on liquid-filled gauges
Specifications
Accuracy
ASME B40.100, Grade B, ± 3-2-3 %
Ambient Temperature Range
Glycerin: -7°C to 65°C (20°F to 150°F)
Silicone: -40°C to 65°C (-40°F to 150°F)
Enclosure, Body Material
Dry (1008A) or Liquid Filled (1008AL): 304 Stainless Steel
Lens
Window: Polycarbonate Lens
Materials of Construction
Bourdon Tube: C Shaped Bronze (Vacuum-600 psi & Compound), Helical (1,000 to 6,000 psi)
Bourdon Tube: Helical Stainless Steel (10,000 to 15,000 psi)
Brass, with O-Ring Case Seal
Dial (Black Figures on White Background), Pointer (Black): Aluminum
Mounting
Front Flange Mount
Panel Mount
Retrofit Flange Mounting
U-Clamp Mount
NPT Connection
Lower & Back: 1/4" NPT Male
Orifice Size
Restrictor: Brass Throttle Plug 0.013" (0.33 mm)
Socket: Throttle Plug 0.007" to 0.063" (0.17 to 1.6 mm) JIS, DIN & Other Connections on Pplication
Pressure Range
bar: 0 to 1,034
kPa: 0 to 103,400
psi: 0 to 15,000
Pressure Type
Compound Pressure
Gauge
Vacuum
Process Temperature
Dry Gauge: -40°C to 65°C (-40°F to 150°F)
Ring Material
304 Stainless Steel, Crimped
Size
2-1/2" (63 mm)
4" (100 mm)
Hydraulics & Pneumatics
Irrigation Equipment
Machine Tools
OEM Equipment
Pressure Washers & Sprayers
Pumps & Compressors