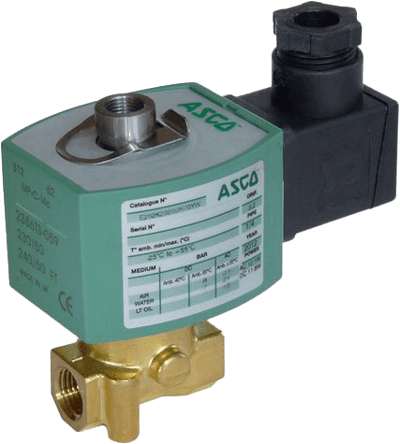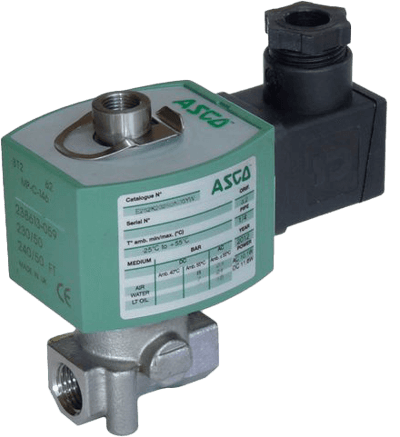 Images are representations only.
ASCO 314 Series Solenoid Valves
Brand:
ASCO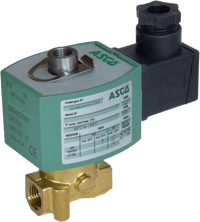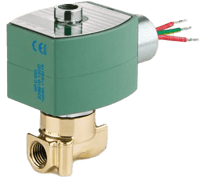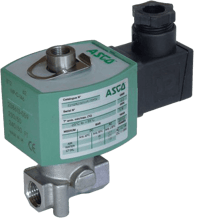 The ASCO 314 Series is a line of direct acting, general service solenoid valves which can be used as moderate flow pilots for smaller control valves and actuators.

With only a spring and two moving parts, the valve is ideal for basic three-way piloting operation It is suitable for analytical and diagnostic equipment, automotive, bottling, dust collector system, and life science applications.
Features
Durable brass and stainless steel constructions for long life
No minimum operating pressure required
Can be used for low-volume fluid diversion
Also available in low-power, intrinsically safe, and voltage ranging constructions
A limited range of globally approved explosion-proof enclosures are available with this series
Specifications
Function
3-Way - 3/2 Normally Closed, 3-Way - 3/2 Normally Open, 3-Way - 3/2 Universal
Media
Air, Inert Gas, Light Oil, Water
Operating Environment
Hazardous, Indoor, Outdoor
Standards & Regulations
Class I, Div. 1, Class I, Div. 2, CSA, Typical 1, Typical 2, Typical 3, Typical 3S, Typical 4, Typical 4X, Typical 6, Typical 6P, Typical 7, Typical 9, UL
Voltage
100 to 240 AC/DC Voltage Ranging, 110 AC, 115 AC, 12 DC, 12 to 24 DC Voltage Ranging, 120 AC, 120 DC, 125 DC Battery Charging, 220 AC, 24 AC, 24 DC, 24 to 120 AC/DC Voltage Ranging, 240 AC - 50, 50/60, 60