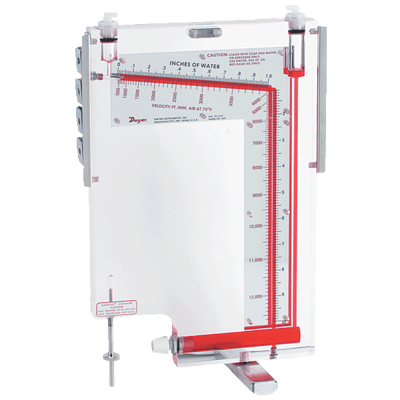 Images are representations only.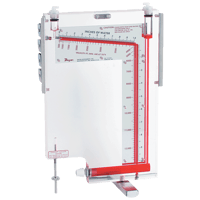 The Series 400 Air Velocity Meter offers the convenience of a dual purpose instrument with high accuracy and easy-to-read scales.

It can be used to balance air conditioning systems, measure pressure drop across filters, and test fan and blower discharge and inlet pressures. Series 400 kits include a manometer, Pitot tube, necessary tubing and connectors, red gage fluid, and carrying case.

Kit Includes No. 400 Air Meter and All Accessories

Combination Inclined/Vertical Manometer. Dwyer® Durablock® precision machined solid acrylic plastic construction is virtually indestructible. Has both inclined section for high accuracy and vertical section for extended range.

Pressure marked in black, Velocity in red figures. Easy to read - no reference tables needed. Has screw leveling adjustment and ground glass bubble level.
Features
Red figures display velocity in FPM and black figures display air pressure in inch w.c
No conversion tables needed for air at standard conditions
Available with Pitot tubes and carrying case
Specifications
Supply Pressure
psig: 100 (bar: 7, kPa: 700)
Air Balancing
Building Commissioning