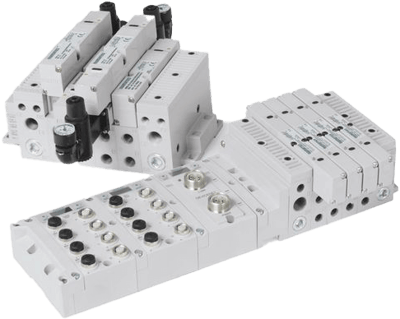 Images are representations only.
Numatics ISO 15407-2-26 Pneumatic Valve
Brand:
ASCO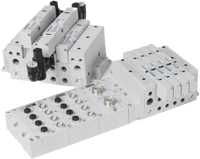 The Numatics ISO 15407-2-26 Series is a 26 mm high-speed, heavy-duty valve line designed for general service on all types of automation. The valves comply with ISO standard 5599/2 for valve-unit-to-base interchangeability. Direct-solenoid and solenoid pilot-actuated models are available. These multi-purpose valves employ the patented Numatics spool-and-sleeve assembly for maximum reliability and durability.
Features
Pressure regulators increase energy efficiency and optimize power consumption
Meets ISO 15407-2 standard for drop-in replacement
Modular design for easy configuration
Speed controls optimize machine cycling
Individual valves are pressure isolated for easy maintenance
Modular G3 fieldbus electronics and I/O compatibility enable easy networking
Plug together circuit boards eliminate internal wiring
Interchangeable push-in fittings accommodate various tube sizes
Port sizes include 1/4, 3/8, 8 mm, and 10 mm
Specifications
Function
4-Way - 5/2, 4-Way - 5/3, 4-Way - 5/3 - Closed Center, 4-Way - 5/3 - Open Center, 4-Way - 5/3 - Pressure Center
Media
21, Air, Inert Gas, Vacuum
Port Type
G ISO 228 / 1-G BSPP, Female NPT, Push-In