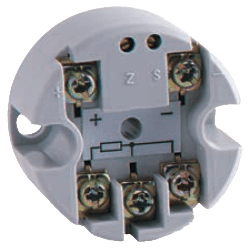 Images are representations only.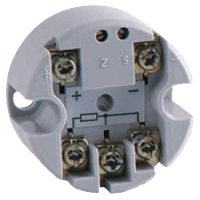 Rugged Series 651 Transmitters are designed for use with 2 or 3-wire Pt100 RTDs (to DIN standard 43760 or BS1904) or ungrounded Type K thermocouples.

Linearized output for precise temperature monitoring or control is combined with small size and quick, easy mounting.

Thermocouple Models 651TC are cold junction compensated, automatic 32 to 160° F (0 to 70° C) with upscale burnout.

These economical devices provide the accuracy and reliability you need at the lowest possible cost.
Features
Various preset ranges available
Pt100 or K type thermocouple models
Standard temperature sensor head enclosure mounting
Specifications
Accuracy
± 0.1 % of Full Scale Plus Cold Junction Errors
± 0.2° C (± 0.36° F) Plus 0.2 % of Reading
Ambient Temperature Range
0° to 50° C (32° to 122° F)
Approvals & Certifications
Circuit Protection
Reverse Connection Protected (Power Requirement)
Input
2-Wire Pt100 RTD
3-Wire Pt100 RTD
Thermocouple Ungrounded Typical K
Loop Resistance
700 ohms at 24 Vdc (Output Impedance)
Response Time
2 milliseconds in 70 %
200 milliseconds in 10 % to 90 %
Sensor / Probe Connection
Temperature Range
0° to 600° C (32° to 1,112° F)
Thermal Drift
Span: 0.005 %/°C (0.0036° F)
Zero: 0.02 %/°C (0.09° F)
Process applications where a 4 to 20 mA signal is required