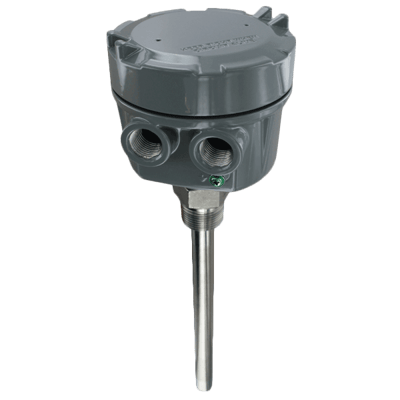 Images are representations only.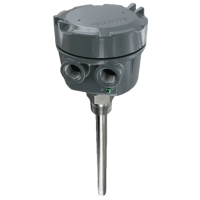 The Model VRLS Vibrating Rod Level Switch is an economical choice in level detection of powders and bulk solids.

The VRLS utilizes a piezoelectric crystal that vibrates the rod at a natural frequency. Once the rod comes in contact with the material, the vibration will be dampened and the switch will change state. Once the rod is uncovered by the material, the switch will revert to its normal state.

Perfect for silo or hopper applications, its probe design allows for self-cleaning, ensuring no build-up or bridging of material and accurate detection.

Sensitivity is adjustable for detection ranging from large granular material to small powders with low bulk densities.

The failsafe mode can be set for failure on high level or failure on low level using a selector switch in the enclosure.
Features
Probe design allows for self-cleaning, ensuring no build-up or bridging of material and accurate detection
No mechanical moving parts with no routine maintenance required
Sensitivity is adjustable for detection ranging from large granular material to small powders with low bulk densities
The failsafe mode can be set for failure on high level or failure on low level using a selector switch in the enclosure
Unaffected by the dielectric constant of the sensed material, making it superior to a capacitance level switch for applications where the dielectric constant is too low, where there is more than one material being used in one vessel, and when material moisture content can change
Ideal for applications where the bulk density is too low for a rotating paddle level switch
Specifications
Ambient Temperature Range
-40° to 60° C (-40° to 140° F)
Indication
Green LED: Internal
Red LED: Internal
Media
Dry Powder or Bulk Materials Compatible with Wetted Materials
Process Temperature
-40° to 80° C (-40° to 176° F)
Response Time
0 to 6 seconds (Sensing Delay)
Sensitivity
20 lbs/ft³ (320 kg/m³) - Min. Bulk Density
Supply Pressure
psi: 150 (kPa: 1,034, bar: 10)
Pulp & Paper Processing
Mining 
Food & Beverage 
Silos 
Hoppers