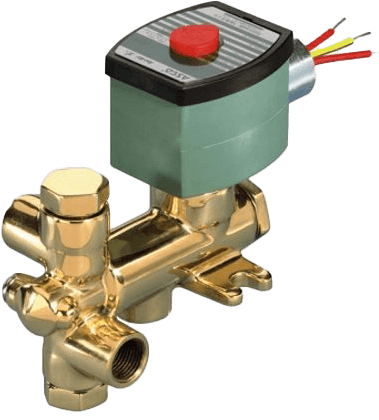 Images are representations only.
ASCO 300 Series Solenoid Valves
Brand:
ASCO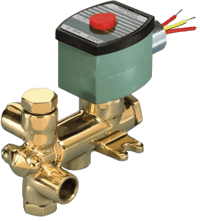 The ASCO 300 Series is a line of general service solenoid valves designed for high-flow and high-pressure applications.

The direct-acting valves have a choice of seating materials to handle aggressive fluids, plus resilient seating for airtight shutoff.

The 300 Series is ideal for use in analytical and diagnostic equipment, power plants, biofuels, dust collector systems, heating equipment, and refining.
Features
Requires no minimum operating pressure
Brass or stainless-steel constructions for challenging environments
Standard RedHat II solenoid Watertight Types 1, 2, 3, 3S, 4, and 4X; RedHat solenoid Type 1
Optional RedHat II solenoid Explosion-proof and Watertight Types 3, 3S, 4, 4X, 6, 6P, 7, and 9; RedHat solenoid - Explosion-proof and Watertight Types 3, 4, 4X, 7, and 9
Specifications
Flow
From 0.1 Cv to 0.5 Cv, from 0.5 Cv to 1.0 Cv
Function
3-Way - 3/2 Normally Closed, 3-Way - 3/2 Normally Open, 3-Way - 3/2 Universal
Media
Air, Inert Gas, Light Oil, Water
Operating Environment
Hazardous, Indoor, Outdoor
Standards & Regulations
CSA, Typical 1, Typical 2, Typical 3, Typical 3S, Typical 4, Typical 4X, Typical 6, Typical 6P, Typical 7, Typical 9
Voltage
24 AC, 110 AC, 120 AC, 480 AC, 6 DC, 12 DC, 24 DC, 48 DC, 120 DC, 240 DC - 50, 50/60, 60