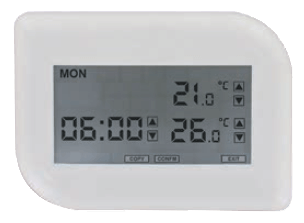 Images are representations only.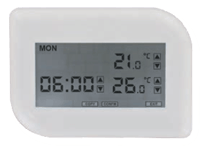 The MODEL TLVT1 Digital Touch Screen Programmable Thermostat with Heat Pump simplifies controlling indoor temperatures in commercial and residential buildings.

A large easy to read LCD display shows the current temperature, set point, as well as time and day of the week. By touching the icons on the display, building occupants can temporarily change the set point, edit the weekly program, or select the control mode.

For larger offices or homes, a single thermostat can control up to two heating and two cooling units. For Heat pump applications, the thermostat can control a two stage compressor.

To make programming the time easier, there is a daylight savings time function that will automatically change the time based on the US time change dates. To prevent tampering, the Model TLVT1 has a security code feature that can lock out the programming.

For additional energy savings, the filter, UV and energy usage timers tracks the number of hours the fan, heater/cooler, and thermostat is powered on.

Additional energy savings can be achieved by programming the thermostat for up to 4 temperature events for each day of the week.
Features
Weekday and Weekend Programs; 4 Events per Day
Large Touch LCD Display
Two-Stage Heating and Cooling Control
Security Code Setting Protection
Filter and Energy use Timers
Specifications
Approvals & Certifications
Display
LCD - Touch Screen Programmable Thermostat
Operating Temperature
0° to 50° C (32° to 122° F)
Power Requirement
24 Vac 50/60 Hz or (2) AA Alkaline Batteries
Set Point - Decreasing
0° to 40° C (32° to 104° F)
Set Point - Increasing
0° to 40° C (32° to 104° F)
Storage Temperature
-5° to 50° C (23° to 122° F)
Commercial or residential indoor temperature control