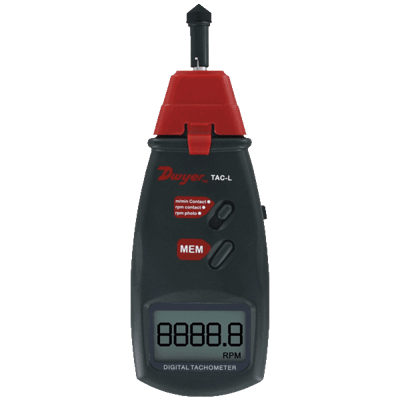 Images are representations only.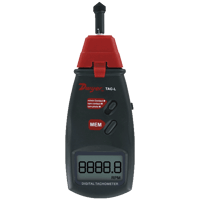 Model TAC-L Portable Digital Tachometer measures rotational speed either by contacting a rotatable head to the shaft of the object, or using photo sensor to detect the reflections from the laser.

The laser target can record from a distance of up to 20 inches and gives a more accurate measurement than LED targeting.

Model TAC-L includes a large LCD with a backlight for use in dark areas.

This tachometer is made of a strong, lightweight ABS plastic housing, which is designed to comfortably fit in the hand of the user.

Supplied with this model are 3 contact rotational heads, a contact surface wheel, and a protective carrying case.
Features
Non-contact operation can record from a distance of up to 20 inches
Memory function recalls records since last power off
Large backlit LCD for visibility in dark areas
Specifications
Approvals & Certifications
Display
5-Digits Backlit LCD 7-Segment
LCD Display
Frequency
0.8 seconds - Sampling Time
Power Requirement
1.5 V AA Alkaline Batteries (4)
Rotation
0.05 to 1999.9 m/min - Surface Speed
0.5 to 19,999 rpm - Contact
2.5 to 99,999 rpm - Non-Contact
Temperature Range
0° to 50° C (32° to 122° F)
HVAC fan motors
Powder and bulk conveyor belts