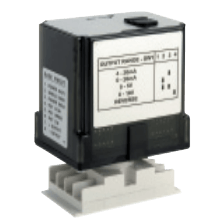 Images are representations only.
AP4003 Potentiometer Input Signal Conditioner
Part Number:
4003-0001
Brand:
Eurotherm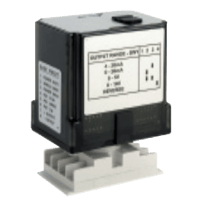 Model AP4003-0001 is the new version of the previous AP4003- xxxx series. Wide-ranging technology from the Ultra Slimpak II series has been utilized in this new version.

This single model contains all of the input capability of previous dash numbers without the need for custom ranging from the factory.

The resistance range is still 100 Ohms to 100 KiloOhms. The default range is 0 to 100% but any portion of the span from 10% to 100% can be selected by pushbutton ranging.

Four output ranges (0-5 Vdc, 0-10 Vdc, 0-20 mA and 4-20 mA) are available.

A 15 Vdc output can also be used, but at a reduced drive level of 3 mA. The default output is 4-20 mA.
Features
Constant voltage excitation
100 Ohms to 100 KiloOhms potentiometers
Tank level and position applications
Selectable failsafe/latching operation
Plug-in installation
Selectable failsafe/latching operation
AC Line powered
Specifications
Approvals & Certifications
CSA C22.2, No. 0-M91, 142-M1987
UL (C,US)
UL 508
Output Ranges
0-5 Vdc
0-10 Vdc
0-20 mA
4-20 mA
Stability
± 100 ppm (± 0.01 %) of Span/°C
Output Impedance
Voltage Output: 100k ohms
Temperature Range
0° C to 60° C
32° F to 140° F