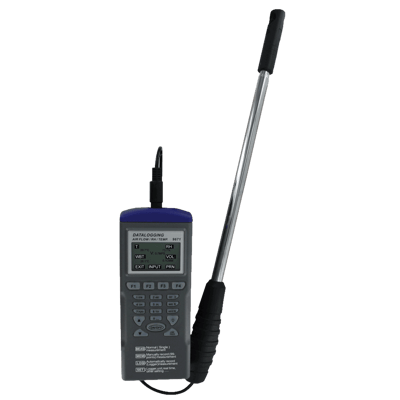 Images are representations only.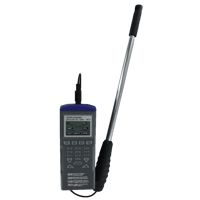 The Model VT-300 Miniature Vane Thermo-Anemometer measures air velocity, air volume, temperature, and humidity inside air ducts.

This meter includes a telescoping vane probe that is only 0.7˝ (18 mm) in diameter that allows duct traverse measurements up to 20˝ ducts. User-selectable units include ft/min, m/s, knots, mph, and km/hr.

The vane probe has a built-in sensor to record temperature in °F or °C, as well as humidity in %RH. There are three modes which include viewing data in real time, manual recording, and automatic recording.

Model VT-300 can store measurements that can later be transferred to a PC via RS-232 communication. The vane probe is detachable for easy replacement, if necessary, or as an addition to Model 9671.

Each unit is supplied with a hard carrying case, batteries, logging software CD, USB to RS-232 cable and Instruction Manual.
Features
3-in-1 parameters: Air Velocity/Flow, RH, and Temperature
Telescopic probe for traversing ducts up to 20"
Built-in data logging for paperless reporting
Vane Anemometer offers wider application use vs pitot or hotwire
Hard case, Batteries, and software included
Specifications
Accuracy
± 0.6° C (± 1° F) from -20° to 50° C (-4° to 122° F) - Temperature Range
± 1.2° C (± 2.2° F) from 50° to 60° C (122° to 140° F) - Temperture Range
± 3 % of Reading + 0.2 m/sec - Air Velocity
± 3 % Relative Humidity at 25° C (10 to 90 % Relative Humidity)
± 5 % Relative Humidity (0.1 to 10 % Relative Humidity, 90 to 99.9 % Relative Humidity)
Approvals & Certifications
Flow Rate
Air: 98.4 to 3937 fpm (0.5 to 20 mps)
Humidity
< 80 % Relative Humidity - Operating
< 90 % Relative Humidity - Storage
0.1 to 99.9 % Relative Humidity
10 to 90 % Relative Humidity
90 to 99.9 % Relative Humidity
Operating Temperature
0° to 50° C (32° to 122° F)
Power Requirement
1.5 V - Alkaline Batteries
Resolution
0.1 m/sec - Air Velocity
0.1 % Relative Humidity
0.1° C (0.1° F) - Temperature
0.1° C (0.1° F) - Wet Bulb
Response Time
1 Minute - Relative Humidity
1 Minute - Temperture
1 second - Air Velocity
Sensor / Probe Diameter
0.7" (18 mm) - Vane Diameter
Storage Temperature
-20° to 50° C (-4° to 122° F)
Temperature Range
-22° to 70° C (-7.6° to 158° F)
Building commissioning
Building HVAC test and balance
Critical environment testing
Industrial process verification
Instrumentation validation