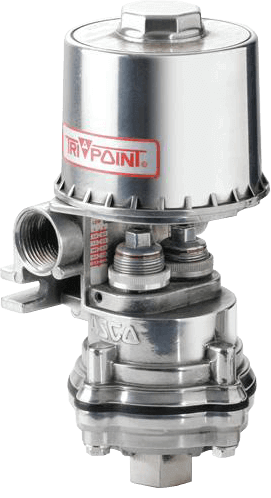 Images are representations only.
S-Series (0 to 8,000 psig) Pressure Switch
Brand:
ASCO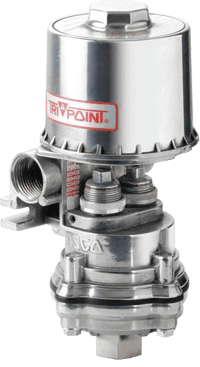 ASCO S-Series pressure switches consist of a switch unit and a transducer unit.

They can be ordered separately for customer stocking and/or field assembly or as a complete factory-assembled unit.

Switch S-Series pressure switch units incorporate the unique ASCO TRI-POINT alternating fulcrum balance plate to control the operation of one or more electrical snapaction swtiches.

The electrical snap-action switch together with the adjusting mechanism is a fully-tested, self-contained subassembly.
Features
Set point repeatability, +1% of operating range.
All wiring terminals, adjustments and visual scales are accessible from the front of the switch.
Choice of general-purpose, watertight or explosionproof enclosures.
Choice of fixed or full-range adjustable deadband.
Choice of single or two-stage units.
Manual reset units available.
Mounts in any position.
Rugged and vibration resistant.
Visual adjustment scales in psi and bars.
External adjusting nuts.
Separate electrical, pressure and adjusting chambers.
Wide selection of transducer wetted materials suitable for air, water, oil or corrosive fluids.
Mix and match switch and transducer components for increased stock flexibility or to change pressure ranges in field
Specifications
Ambient Temperature Range
-20° to 60° C (-4° to 140° F)
Approvals & Certifications
Diaphragm Material
Buna-N
Ethylene Propylene (EPR)
Fluorosilicone
Neoprene
Viton
Electrical Rating
1/2 A at 125 Vdc
1/4 A at 250 Vdc
1/4 hp at 250 Vac
1/8 hp at 125 Vac
10 A at 125/250 Vac
15 A at 125 Vac
Enclosure, Body Material
316 Stainless Steel
Aluminum
O-Ring Material
Buna-N
Ethylene Propylene (EPR)
Fluorosilicone
Neoprene
Pressure Range
bar: 0.028 to 551.6
Inches WC: 0 to 400
kPa: 2.758 to 55,160
psig: 0.4 to 8,000
Process Connection Material
303 Stainless Steel
316 Stainless Steel
Aluminum
Brass
Proof Pressure
bar: 1.72 to 620.5
kPa: 172.4 to 62,053
psig: 25 to 9,000
Set Point - Decreasing
bar: 0.028 to 551.6
Inches WC: 0 to 400
kPa: 2.758 to 55.160
psig: 0.4 to 8,000
Set Point - Increasing
bar: 0.028 to 551.6
Inches WC: 0 to 400
kPa: 2.758 to 55.160
psig: 0.4 to 8,000
System Pressure
bar: 1.72 to 620.5
kPa: 172.4 to 62,053
psig: 25 to 9,000