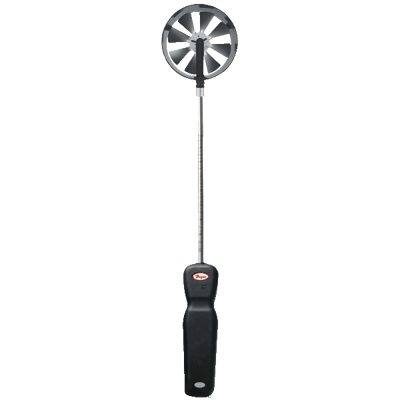 Images are representations only.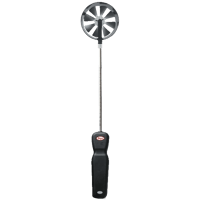 The Model VP2 Wireless 100 mm Vane Thermo-Anemometer Probe measures air velocity, air flow, humidity, and temperature when combined with the Model UHH Universal Handheld.

By having a larger diameter, the rotating vane is able to measure velocities down to 50 fpm or 0.25 m/s. An arrow is molded into the vane housing to depict the flow direction.
Features
Allows for one handed operation for ladder use safety
Stable 50' (15 m) wireless range
Specifications
Accuracy
± 0.3° C (± 0.54° F) at 25° C (77° F)
± 1.5 % of Reading
± 2 % at 25° C (77° F) (10 to 90 % Relative Humidity)
± 4 % (0 to 10 % & 90 to 100 % Relative Humidity)
Ambient Temperature Range
-15° to 51° C (5° to 125° F)
Approvals & Certifications
Enclosure, Body Material
Polycarbonate
Thermoplastic Elastomers (TPE)
Flow Rate
40 to 5000 fpm (0.2 to 25 mps)
Humidity
0 to 100 % Relative Humidity
Power Requirement
3.7 V Lithium YT562447 Ion Battery
Process Temperature
-29° to 100° C (-20° to 212° F)
Response Time
1 second - Air Velocity & Air Volume
1.5 seconds - Temperature & Relative Humidity
Temperature Range
0° to 45° C (32° to 113° F) - Battery Charging
Building Commissioning
Building HVAC Test and Balance