Images are representations only.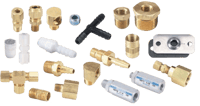 A wide variety of fittings for use with most Dwyer products.

Special line filters for the Magnehelic® Gauge and Capsuhelic Gauge allow use with dusty environments. Particulate filters are used for Dwyer Flowmeters to keep the air clean.

The Muffler Accessory can be easily field installed to any diaphragm valve with an exhaust. Pneumatic exhaust ports are on the diaphragm valves that have dual diaphragms and the units with the integral mounted solenoid.

The muffler decreases the amount of noise when the air is exhausted from the valve.

Valves with dual diaphragms and an integral solenoid have two exhaust ports and will require one A-237 and one A-238.
Specifications
Drain, Vent Valves & Plug
1/2" Plastic Hole - Plug
5/16" Metal Hole - Plug
Materials of Construction
Brass
Nylon
Plastic (Tubing)
Rubber
NPT Connection
1/2" NPT Female
1/2" NPT Male
1/4" NPT Female
1/4" NPT Male
1/8" NPT Female
1/8" NPT Male: A-332, A-333, A-334, A-339, A-349, A-392
1/8" NPT
Plug Material
Nylon
Plated Steel
Sintered Metal
Process Connection Material
Process Fitting Details
1/4", 5/16" Compression Fitting
Nipple
Tube Connection
1/4" Metal Tube, 1/4" Nylon Tube Union
1/8" I.D. Plastic Tubing "T" Assembly: A-343-1
3/8" Tube
5/16" Nylon Tube Union
UNF/UNC Connection
3/8" NF Male (For Gas Appliances)
5/16" NF Male (For Gas Applicances)