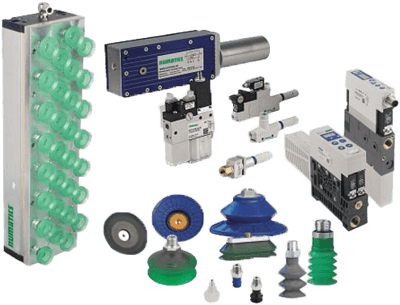 Images are representations only.
ASCO Numatics Vacuum Products
Brand:
ASCO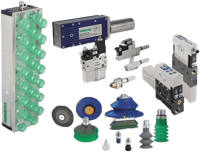 The ASCO Numatics vacuum components and vacuum gripping systems permit attractive productivity improvements in automated processes.

Our products can handle workpieces that range from easily damaged, small parts such as electronic chips or CDs, to furniture elements or heavy steel sheets.

Numatics extensive vacuum portfolio includes ejectors, electric vacuum pumps, suction cups, large-area and specialty grippers, spring plungers, sensors, switches, regulators and accessories.
Features
Vacuum ejectors consist of basic, line-feed, multi-stage, and compact units suitable for automotive, packaging, food, and beverage applications
Electric vacuum pumps provide a reliable way to generate vacuum when compress air is not available. They are primarily used as a central vacuum generator in gripping systems for handling air-tight work pieces
Suction cups are designed for extended life and are available in a variety of sizes, shapes, and materials. They are suitable for processing a variety of work pieces (air tight and porous)
Large-area grippers are constructed of extruded aluminum and are available with a foam pad or suction cups. They provide a reliable means of handling work pieces with gaps
Specialty grippers are used in applications where it is not possible or practical to use suction cups
Vacuum sensors, switches and regulators provide customers with all of the required components to complete a vacuum automated solution
Spring plungers compensate for excessively long strokes of the handling system and work pieces of varying heights and uneven surfaces
Accessories are available such as vacuum filters, check valves, silencers, and cables
Specifications
Operating Environment
Corrosive, Indoor, Outdoor, Hazardous, Washdown