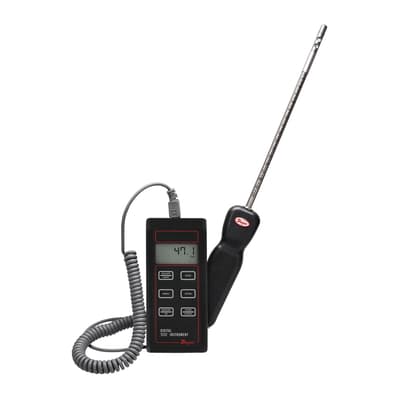 Images are representations only.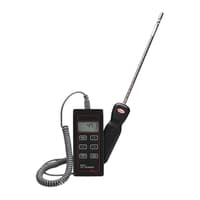 The MODEL 471B Thermo-Anemometer Test Instrument is a versatile dual function unit that quickly and easily measures air velocity or volumetric flow as well as air temperature in imperial or metric units.

A stainless steel probe is included, which has a comfortable hand grip and etched insertion depth marks.

The extruded aluminum housing fully protects electronics, yet is lightweight and comfortable to hold.
Features
Compatible with Dwyer RP1 thermo-hygrometer and VP1 100 mm vane thermo-anemometer probes (sold separately)
High contrast and backlit LCD for visibility in any condition
Able to store up to 99 readings
Integral sliding cover protects probe sensors when not in use
Built-in volumetric air flow calculations
Specifications
Accuracy
± 0.28° C (± 0.5° F) from 0° to 50° C (32° to 122° F)
± 0.83° C (± 1.5° F) from -40° to 0° C (-40° to 32° F)
± 3 % of Full Scale
Ambient Temperature Range
-15° to 51° C (5° to 125° F)
Applications
Duct Traverses
HVac Inspections
Testing & Balancing
Approvals & Certifications
Flow Rate
0 to 6000 fpm (0 to 30 mps) - Air Velocity
Insertion 'U' Length
18" (46 cm)
24" (60.9 cm)
36" (91.4 cm)
8" (20.3 cm)
Process Temperature
-40° to 100° C (-40° to 212° F)
Temperature Range
-40° to 100° C (-40° to 212° F)
Duct traverses
HVAC inspections
Testing and balancing