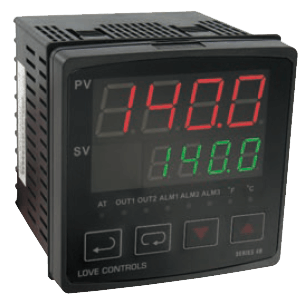 Images are representations only.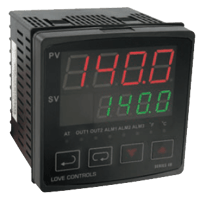 The Series 4B 1/4 DIN Temperature/Process Controller is designed to accept thermocouple, RTD, current or voltage input and provide dual outputs for control.

Available outputs include relay/relay, voltage pulse/relay, current/relay, or linear voltage/relay.

The units can be programmed for ON/OFF, PID, auto-tuning, or manual tuning control methods.

The PID control is supported by 64 ramp/soak actions. The Series 4B also includes two additional alarm outputs. The second relay output can be reconfigured as a third alarm output. The alarm type can be selected from 13 different preprogrammed alarm functions.

The controller features dual LED displays for local indication of process and setpoint values.
Features
Universal Input accepts Process Transmitters, RTD's or Thermocouple Signals
On/Off, PID, or Manual Output Control
RS-485 Standard on all Models
Stage Control Program for up to 64 Ramp/Soak Actions
Specifications
Accuracy
± 0.25 % of Span, ± 1 Least Significant Digit
Approvals & Certifications
Communication
Mini-Node USB/RS-485 Converter
RS-485 Modbus A-5-11 / RTU Communication Protocol
Display
1/2" High (12.7 mm) Green LED
3/4" High (19 mm) Red LED
7-Segment
Two 4-Digit LED
Input
0-10 V
0-20 mA
0-5 V
0-50 mV
4-20 mA
DC Current
DC Voltages
RTDs
Thermocouples
Operating Temperature
0° to 50° C (32° to 122° F)
Output
0-10 V - Linear Voltage
14 V, 10 % to -20 % - Voltage Pulse
4-20 mA - Current
Supply Voltage
100-240 Vac
24 Vdc
50/60 Hz
Switch Type
SPDT, 5 A at 250 Vac Resistive - Relay
Temperature Range
-200° to 1800° C (-328° to 3272° F)
Control temperature for boilers, damper control based on temperature or pressure
Hot plates/melt pots
Packaging equipment
Environmental chambers
Medical equipment.
Food service equipment.