Images are representations only.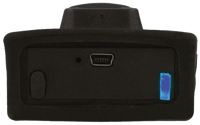 The Model UHH-BTG Wireless Mobile Gateway transforms the wireless signal from any Dwyer Instruments, Inc. universal handheld probe or module into a Bluetooth SIG, Inc, Wireless Technology.

Using this gateway, any iOS® Firmware version 5.X or later or Android® Firmware version 3.X or later smartphone or tablet can become the base instrument for measuring or logging.

Once the gateway is paired with a phone or tablet, our Mobile Meter® Software Mobile App or any other Dwyer Instruments, Inc. approved apps can detect available probes or modules.

Wireless gateways can detect probes or modules that are 50 feet away or even greater distances depending on the environment. The wireless signal from the gateway to the mobile device adds at least another 25 feet of sensing distance.

Model UHH-BTG is compact in size and clips on to most standard belts.

The rechargeable battery can be charged using the same mini-USB cable and charger as the probes or modules. LED lights indicate the battery status and whether the gateway is communicating properly.
Features
Detects Probes/Modules from 50 ft (15 m) Away
Compact Size with Belt Clip for Carrying Around
Can be Recharged Using the Same Mini-USB Cable and Charger as Probes/modules
Specifications
Ambient Temperature Range
-15° to 51° C (5° to 125° F)
Approvals & Certifications
Configuration
Conforms to Bluetooth SIG, Inc. Low Energy Wireless Technology
Power Requirement
3.7 V Lithium YT562447 Ion Battery
Temperature Range
0° to 45° C (32° to 113° F) - Battery Charging
Building Balancing
Building Commissioning
Testing HVAC Equipment Performance