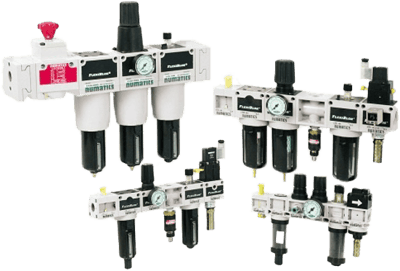 Images are representations only.
Numatics 42 Series Filters, Regulators & Lubricators
Brand:
ASCO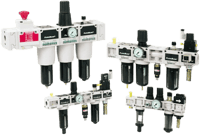 The Numatics 42 Series FlexiBlok® line is a modular, easy-to-assemble system of pneumatic filters, regulators, and lubricators (FRLs) available in 3/4-inch and 1-inch port sizes.

These products combine high flow rates with reliable performance and superior durability. Their robust constructions are ideal for applications in the automotive and tire, chemical, food and beverage, medical and life science, and oil and gas industries.

Most components can be modified with readily available options and accessories such as metal bowls and easy-to-operate drains.
Features
High-strength lightweight aluminum constructions make them perfect for robotic arms where total weight is at a premium
Simple to assemble with two button head screws and an O-ring seal — reducing leakage and lowering installation cost
Integrated mounting holes eliminate mounting brackets and allow components to attach directly as standalone units
High-flow design with minimal pressure drop ensure air preparation products will not constrain pneumatic system operations
Wide range of filter elements (particulate, coalescing, and adsorbing) permits maximum filtration flexibility
Combination coalescing filter/regulator with 3-micron pre-filter saves space and capital expense