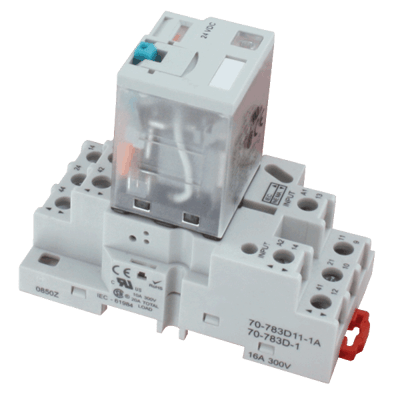 Images are representations only.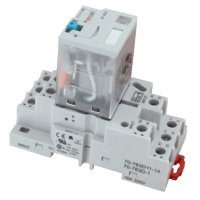 The Series 783 Electromechanical Ice Cube Relay is a full-featured 3PDT relay that can control up to 3 devices with a single trigger.

Series 784 Electromechanical Ice Cube Relay is a full-featured 4PDT relay that can be used to handle loads up to 15 amps for AC or DC circuits.

Utilizing the same trigger, this relay can be used in underground parking garage applications to signal audible and visual alarms for high levels of carbon monoxide, while opening the dampers and starting the exhaust fans.

Series 783 & 784 feature a flag status indicator and a LED status lamp to let the user know when the relay is activated. In order to differentiate between AC and DC actuated models, the push-to-test button is color-coded.

For testing the operation, a removable lockdown lever holds the test button in place. The clear plastic housing gives a view of the contacts and there is a removable I.D. tag for labeling the circuit.
Features
Clear plastic housing to easily view the contacts
Flag and LED status indicators for visual confirmation of relay state
Socket mounted for quick installation/replacement
Specifications
Approvals & Certifications
CE
CSA
cUL
cUR
RoHS
UL
UR
Electrical Contacts
Silver Alloy Plug - in Contacts
Electrical Rating
12 A at 277 Vac 50/60 Hz
15 A at 120 Vac 50/60 Hz
28 Vdc
Input
120 Vac
24 Vac
24 Vdc
50/60 Hz - AC Operated Model
Loop Resistance
103 to 2,770 ohms - Coil Resistance
Operating Temperature
-40° to 55° C (-40° to 131° F)
Operating Voltages
24 to 120 Vac - Load Voltage
24 Vdc - Load Voltage
Storage Temperature
-40° to 85° C (-40° to 185° F)
Refrigeration Compressor Systems
HVAC Motor Controls
Water / Wastewater Pump Control