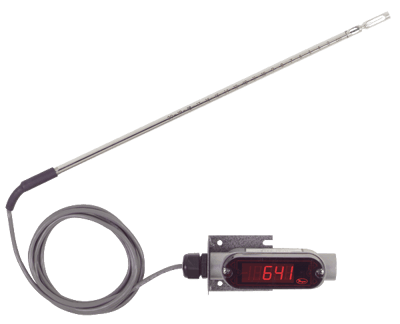 Images are representations only.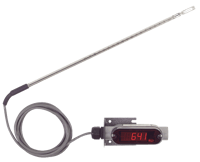 The SERIES 641RM features the same highly accurate heated mass flow sensor as the Series 641, with a remote probe construction.

The units 6´ cable which connects the sensing probe with the electronic enclosure allows the enclosure to be mounted where it can be more easily accessed.
Features
Ranges from 250 FPM (1.25 MPS) to 15,000 FPM (75 MPS)
Optional Bright LED Display
Easy Push Button Set-up
Compact Housing
4 to 20 mA Output
Digital Filter for Signal Damping
Specifications
Accuracy
3 % of Full Scale Process Gas: 0° to 50° C (32° to 122° F)
4 % of Full Scale Process Gas: -40° to 0° C & 50° to 100° C (-40° to 32° F & 122° to 212° F)
Ambient Temperature Range
0° to 60° C (32° to 140° F)
Approvals & Certifications
Display
4-1/2-Digit, 1/2" Red LED
Flow Rate
250 to 15,000 fpm (1.25 to 75 mps)
Media
Clean Air & Compatible
Non-Combustible Gases
NACE & NIST
NIST Traceable Calibration Certificate
Output
4-20 mA, Isolated 24 V Source, 3 or 4-Wire Connection
Process Temperature
-40° to 100° C (-40° to 212° F)
Response Time
0.5 to 15 seconds
1.5 seconds to 95 % of Final Value
Sensor / Probe Diameter
12" (304.8 mm)
5/16" (0.79 cm)
Supply Pressure
psi: 100 (kPa: 689.5, bar: 7)
Exhaust stack flow monitoring
Air control in drying processes
HVAC air velocity measurements
Fan supply and exhaust tracking
Clean room ventilation monitoring