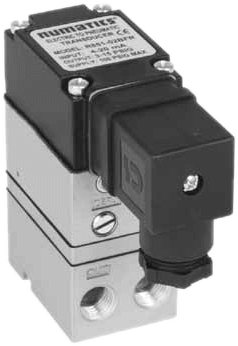 Images are representations only.
R85 Series Mini Transducer
Brand:
ASCO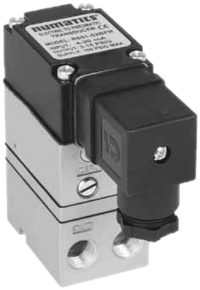 The R85 Series I/P, E/P transducers are a series of compact electronic pressure regulators that convert an electrical signal (current or voltage) to a proportional pneumatic output.

Utilizing internal solid-state feedback circuitry, the R85 provides precise, stable pressure outputs to final control elements. Immunity to the effects of vibration or mounting position, high tolerance to impure air, and low air consumption make this unit ideal for use in demanding applications.

The heart of this unique technology is a bimorph piezo actuator that is encapsulated in a protective skin. This protective skin provides defense against the humidity and contaminant often found in process operating environments.
Features
Reliable in harsh environments
Low air consumption - 3 SCFH typical
High accuracy - +/-0.10% of span
NEMA-4X (IP65) enclosure
Vibration/position insensitive
Compact size
Wall, panel (included), pipe (included), or din rail mounting
Supply pressures up to 100 PSIG
Built-in volume booster - 10 SCFM flow
Input/output ports on front and back
Conduit fitting or din connector
Split range operation
Field reversible
CE Approved
Specifications
Air Consumption
1.5 scfh 0.04 m³/hour at Midrange Typical
Approvals & Certifications
Electrical Connectors
1/2" NPT Conduit Fitting with Pigtail
DIN 43650
Enclosure, Body Material
Chromate Treated Aluminum
Flow Capacity
12 scfm (20 m³/hour) at psig: 100 (bar: 7, kPa: 700) Supply
4.5 scfm (7.6 m³/hour) at psig: 25 (bar: 1.7, kPa: 170) Supply
Mounting
2" (50.8 mm) Pipe
DIN Rail
Panel
Wall Mounted
Operating Temperature
-40° to 71° C (-40° to 160° F)
Output Pressure
bar: 0.14 to 6.89
kPa: 13.79 to 689.4
psig: 2 to 100
Storage Temperature
-40° to 93° C (-40° to 200° F)
Supply Pressure - Maximum
bar: 7
kPa: 700
psig: 100
Trim Material
Brass
Stainless Steel
Zinc-Plated Steel