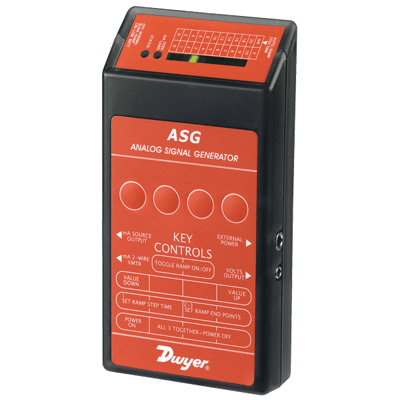 Images are representations only.
The pocket size model ASG Analog Signal Generator is an ideal tool for troubleshooting transmitters, transducers, motors and actuators.

The unit generates a 0 to 10 VDC signal in increments of 1 volt or a 4 to 20 mA signal in increments of 2 mA. An LED bar graph visually indicates analog signal level.

The model ASG will also continuously ramp to user defined maximum and minimum values with user defined ramp interval timing.

Units are furnished with 6 ft (1.8 m) leads with alligator clips, 120 VAC plug-in adapter, protective carrying case and instruction manual.
Features
LED Bar Graph for Visibility in Dark Areas
Variable Ramp Function Timing
Auto Shut-Off to Conserve Battery Life
Specifications
Applications
Calibrating Transducers
Display Process Values from Various Transmitters
Transmitters & Transducer - Troubleshooting
Electrical Connectors
6" (1.8 m) with Alligator Clips
Function
2 to 20 seconds (2 seconds Increments) - Ramping Time Intervals
Input Impedance
1,000 ohms Min. - Voltage
300 ohms, Max.
Operating Temperature
0° to 50° C (32° to 122° F)
Output
0-10 Vdc (1 Vdc Increments)
0 to 20 mA (2 mA Increments)
Power Requirement
120 Vac
9 V Alkaline Battery
Response Time
2 to 20 minutes (2 minutes Increments) (6 minutes Default) - Auto Shutoff Times