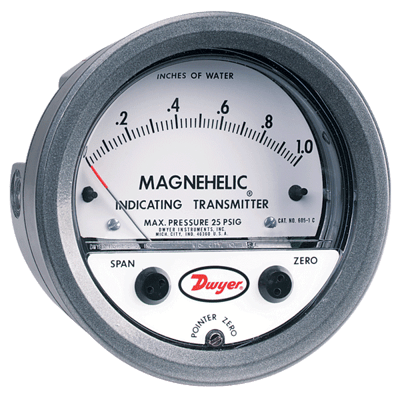 Images are representations only.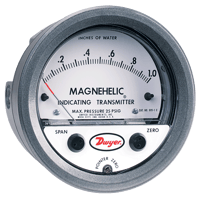 The Series 605 Magnehelic® Indicating Transmitter provides for both visual monitoring and electronic control of very low differential pressure.

The Series 605 is ideal for control applications in building HVAC systems where local indication is desired during routine maintenance checks or necessary when trouble shooting the system.

The The easily read dial gauge is complimented by the two-wire, 4 to 20 mA control signal utilizing the time-proven Dwyer® Magnehelic® gauge mechanical design and Series 600 transmitter technology.

The two-wire design with terminal strip on the rear simplifies connection in any 4 to 20 mA control loop powered by a 10 to 35 VDC supply.
Features
Easy to read gauge permits viewing from far away
Patented design provides quick response to pressure changes means no delay in signaling and alerting to critical situations
Durable and rugged housing and high-quality components combined provides longservice life and minimized down-time
Specifications
Accuracy
± 0.5 % of Full Scale (The Effects of Linearity, Hysteresis & Repeatability, are included)
Approvals & Certifications
Compensated Temperature
0° to 48.9° C (32° to 120° F)
Electrical Connectors
Screw Typical Terminal Block
Media
Air
Non- Combustible & Compatible Gases
Mounting
Flat Aluminum Bracket for Flush Mounting
Pressure Range
Inches WC: 0 to 50
Pa: 0 to 500
Sensor Orientation
Diaphragm in Vertical Position
Size
Dial: 4" (100 mm)
Gauge: 5"
Stability
± 1 % of Full Scale Per Year
Temperature Effect
± 0.025 % of Full Scale/°F (0.045 % of Full Scale/°C)
Temperature Range
-6.67° to 48.9° C (20° to 120° F)
Monitor pressures in ducts, rooms, or total building pressures
Filter monitoring
Local indication of clean room pressures with process signal sent to control room