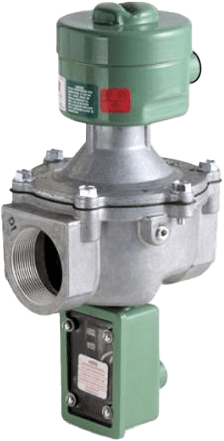 Images are representations only.
ASCO 043 Series Gas Shut-Off Valves
Brand:
ASCO
The ASCO Series 043 are 2-way, normally closed gas shutoff valves for on-off control of fuel gas in commercial and industrial gas burners.

The valves feature a unique double-disc design with over travel that provides redundant sealing for leak-tight operation. The Series 043 includes visual position indication and proof of closure.
Features
Opening and closing response times are less than 1 second
Visual indication of open and shut position
Proof of closure switch rated at 1 amp
Zero-differential piloted diaphragm
1/8-inch NPT upstream and downstream pipe taps with plugs for routine testing
5-pound closing spring for high force shut-off
Specifications
Flow
From 2.0 Cv to 6.0 Cv, from 6.0 Cv to 14.0 Cv, over 14.0 Cv
Function
2-Way - 2/2 Normally Closed
Maximum Differential, Maximum Operating Pressure
Pipe / Port Size
3/4, 1, 1-1/4, 1-1/2, 2, 2-1/2, 3
Standards & Regulations
CSA, FM, Typical 1, UL, Typical 4
Voltage
110 AC, 120 AC, 220 AC, 230 AC/50/60