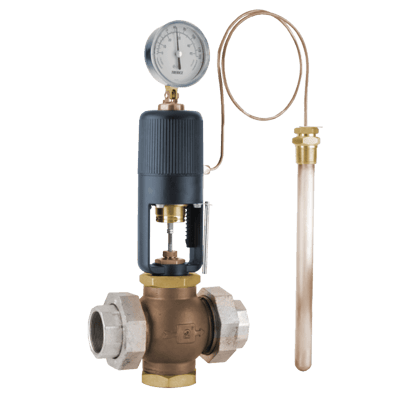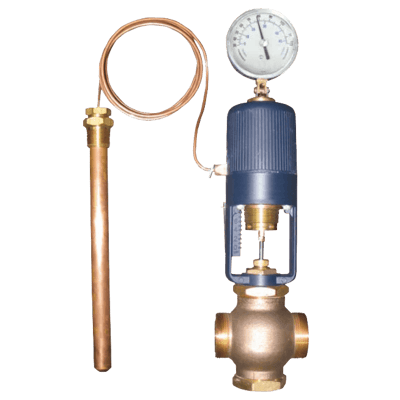 Images are representations only.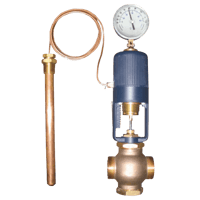 Series 38R Self-Acting Temperature Control Valves require no external power sources and are ideal for regulating the temperature of tanks, process streams and various types of industrial equipment.

The actuators are made with a rugged die-cast aluminum housing with a fully enclosed bellow assembly and internal over-range protection.

Valves are offered in 1/2" through 6" connection sizes and 1/8" through 6" port sizes. The valve bodies are available in single-seated direct or reverse-acting, double-seated direct or reverse-acting, and 3-way designs with four choices of body material: bronze, cast-iron, cast steel, and 316 stainless steel.

Actuators are available with or without indicating dials or in Fail-Safe. Non-indicating actuators feature a lower profile and should be implemented where space constraints may be an issue while the indicating actuator allows the operator to verify the process temperature and aid in temperature adjustment.

Fail-Safe actuators are designed to cause the valve to fail in the safe control position (open in cooling application, closed in a heating application) should some accidental damage occur to the terminal system, resulting in loss of pressure charge.

Also available with the Series 38R are a wide range of capillaries, bulbs, and thermowells.
Specifications
Enclosure, Body Material
316 Stainless Steel - Two & Three-Way Stainless Steel Valve Body (Single Seat 1/2" to 2")
Bronze - Two-Way Bronze Valve Body (Single Seat 1/2" to 2" & Double Seat 3/4" to 2")
Die Cast Aluminum
Epoxy Coated Aluminum
NPT Connection
1" NPT Female
1/2" NPT Female
1-1/2" NPT Female
1-1/4" NPT Female
2" NPT Female
3/4" NPT Female
Pressure Range
psi: 250 (kPa: 1,724, bar: 17.24) at 210° C (410° F)
Trim Material
316 Stainless Steel - Wetted Material