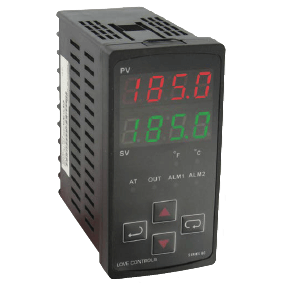 Images are representations only.
The Series 8C Temperature Controller offers easy-to-use programming menus designed for quick installation.

The unit is designed for direct or reverse acting (cooling or heating) control.

The Series 8C can be programmed for simple ON/OFF or more complex PID control functions. PID control is supported with manual or auto-tuning. Select relay, voltage pulse, or current output control methods. The controller also includes two additional alarm outputs. The alarm outputs can be configured from 12 different preprogrammed settings.

The temperature controller accepts a variety of thermocouple and RTD inputs. The process value and setpoint value are displayed simultaneously on the large dual LED. Auto-tuning, engineering units (°F or °C) and alarm status is also indicated on the faceplate.
Features
Universal Input Accepts RTD or Thermocouple Sensors
On/Off, PID, or Manual Output Control
RS-485 Standard on All Models
Specifications
Accuracy
± 0.25 % of Span, ± 1 Least Significant Digit
Approvals & Certifications
Communication
RS-485 Modbus at ASCII Communication Protocol
Display
7-Segment LED, PV: Red, SV: Green
Two 4-Digit LED
Operating Temperature
0° to 50° C (32° to 122° F)
Output
14 Vdc, Max.
4-20 mA - Current
Output Format
Current Output
Relay Output
Voltage Output
Switch Type
SPDT Relay, 5 A Resistive @ 250 Vac
Temperature Range
-200° to 1800° C (-328° to 3272° F)
Oven, boiler, or chiller control
Hot plates/melt pots
Food service equipment
Environmental chambers
Packaging equipmen