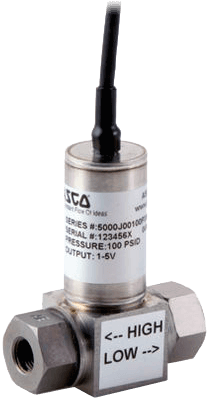 Images are representations only.
Series 50 Differential Pressure Sensor
Brand:
ASCO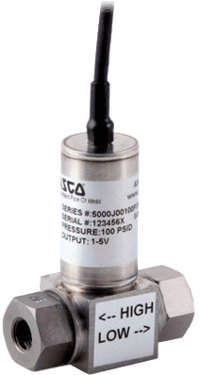 Specifications
Compact and rugged design.
High strength stainless steel construction.
No internal fluid filled cavities.
No Internal o-rings.
Wide operating temperature range.
Low static and thermal errors.
EMI/RFI protection to 100 V/m.
Suitable for high shock and vibration applications.
Specifications
Bandwidth
(-3 dB), DC to 1 kHz
DC to 250 Hz
Burst Pressure
5 times or psi: 20,000 (bar: 1,379, kPa: 137.9), whichever is less
bar: 34.5 to 137.9
kPa: 3,447 to 13,790
psig: 500 to 2,000
Compensated Temperature
0° to 55° C (30° to 131° F)
Operating Temperature
-40° to 85° C (-40° to 185° F)
Output
0.25 to 5 V
0.5 - 4.5 V Ratiometric
1-5 V
1-6 V
4-20 mA
Pressure Range
bar: 0 to 20.68
kPa: 0 to 2,068
psig: 0 to 300
Proof Pressure
bar: 6.89 to 68.94
kPa: 689.47 to 6,894
psig: 100 to 1,000
Reverse Polarity Protection
Set Point - Decreasing
bar: 0 to 20.68
kPa: 0 to 2,068
psi: 0 to 300
Set Point - Increasing
bar: 0 to 20.68
kPa: 0 to 2,068
psi: 0 to 300
Shock
100 G, 11 milliseconds, 1/2 Sine
Storage Temperature
-40° to 100° C (-40° to 212° F)
Vibration
10 G Peak, 20 to 2,000 Hz
Wetted Materials
316L Stainless Steel with Parylene-C Coating
630 Stainless Steel