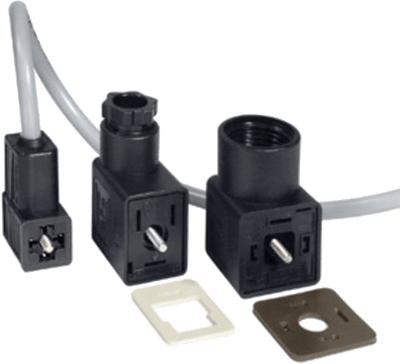 Images are representations only.
ASCO DIN Connectors
Brand:
ASCO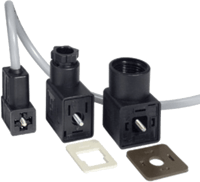 The ASCO Series DIN electrical connectors are spade connectors designed to fit standardized, three-pin molded coils.

They feature a glass fiber-reinforced polyamide housing and lid. The DIN connectors have IP65 protection against moisture entry and wash down when properly installed with gaskets.

The standard connector with 18mm contacts comes with a removable lid allowing access to the wiring for easy checking of power supply without unplugging the connector and interrupting solenoid valve operation.
Features
LED Option: solid-state diode emits light to indicate power to the connector
VDR Option: Varistor absorbs the self-inductance of the coil. The VDR protects the coil or controller against supply over-voltage or peak
Maximum voltage is 240 Volts