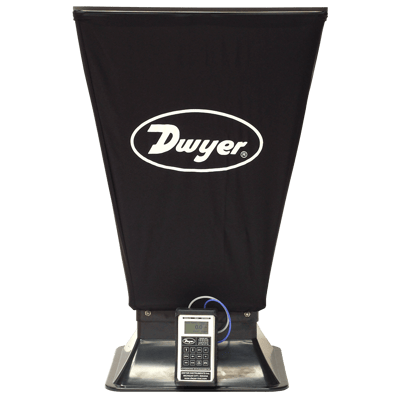 Images are representations only.
The MODEL AFH2 Air Flow Hood maintains a running average of volumetric air flow measurements and provides the ability to manually record the measurements with the manometer over a given period of time.

The highly accurate digital manometer has an auto-zero function and will auto-zero at user-defined intervals.

In addition to these features, the unit will alert you when its battery is running low in order to avoid recording inaccurate measurements.
Features
Highly Durable and Easy Storage in Included Travel Case
No Tools Required to Set up
Digital manometer easily mounts to the flow hood or can be used as stand alone instrument
Specifications
Accuracy
± 1 Count (± 0.05 Pascal Typical, ± 0.0002" WC) - Zero System Accuracy
± 3 % of Reading ± 9 cfm (± 4 L/sec, 14 m³/hour) - Supply & Exhaust
Approvals & Certifications
Dimensions
2" x 2" (600 mm x 600 mm) - Hood Only
30" x 24" x 24" (965 x 610 x 610 mm)
Flow Capacity
25 to 1,176 scfm (43 to 2,000 m³/hour) - Supply
29 to 1,176 scfm (49 to 2,000 m³/hour) - Exhaust
Operating Temperature
0° to 50° C (32° to 122° F)
Power Requirement
8.4 V NiMH Battery
9 V Alkaline Battery
Rotation
Any 45° Change 0.0004" W.c. (0.1 Pascal) Typical
Span & Zero Adjustments
Better than 0.1 % of Range in Use Per 2° F (1° C)
Stability
0.1 % of Range Per 1° C (2° F)
Storage Temperature
-5° to 50° C (23° to 122° F)
Temperature Effect
± 0.1 % of Range in Use Per 2° F (1° C)
Measure Volumetric Air Flow from Diffusers, Grilles & Registers