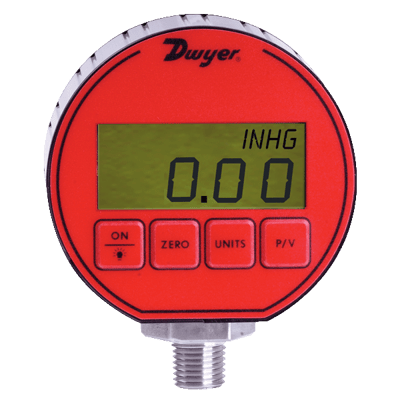 Images are representations only.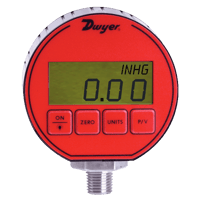 Replace your outdated Analog gauges with the new Series DPG Digital Pressure Gauge. The Series DPG has a high ±0.25% or ±0.5% full-scale accuracy.

The 4 digit digital display will reduce the potential for errors in readings by eliminating parallax error commonly produced with Analog gauges.

Series DPG is battery powered and has an auto-shut off to conserve battery life. Battery life, on average, will last 2,000 hours. A 4 button key pad allows easy access to features without the need to work through complex menus or difficult key combinations.

These features include backlight, peak and valley, tare or auto zero and conversion of the pressure units.
Features
High accuracy provides exceptional measurement minimizing costly out of specification conditions
Backlit 4-digit display provides clear parallax-free reading reducing potential for errors
Battery-powered gage with auto-shutoff eliminates wiring and prolongs battery life reducing service calls
Push-button zero reduce installation and service time
Specifications
Accuracy
± 0.5 % of Full Scale: DPG-000
± 1 at 21° C (70° F) (The Effect of Linearity, Hysteresis, Repeatability are included)
0.25 % of Full Scale: DPG-100
Approvals & Certifications
Battery Life
2,000 Hours Typical Low Battery Indicator
Display
4-Digit LCD (0.425" H x 0.234" W Digits)
Enclosure, Body Material
Anodized Aluminum Extruded Housing with Recessed Grooves
Media
Combustible Gases
Compatible Liquids
NACE & NIST
NIST Traceable Calibration Certificate
Pressure Range
bar: -1.013 to 344.8
Centimeters WC: -1,034 to 7,031
Inches Hg: -29.93 to 6,108
Inches WC: -407.3 to 8,304
kg/cm²: -1.033 to 351.5
kPa: -101.4 to 34,474
mbar: -1,013 to 6,895
Millimeters Hg: -760.7 to 5,172
oz./in²: -235.2 to 8,000
psi: -14.70 to 5,000
Response Time
2 minutes (Backlight Auto Shut-Off)
60 minutes (Gauge Auto Shut Off May be Disengaged)
Temperature Range
-18° to 55° C (0° to 130° F)
Material of Construction
Sensor: 316L Stainless Steel
Front & Back Cover: Polycarbonate
Process Applications
Replacement for Legacy Analog Gages
OEM Applications