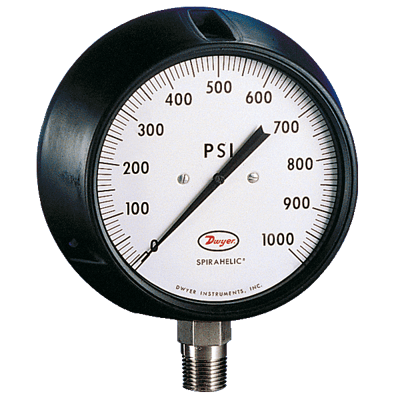 Images are representations only.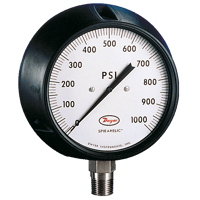 The Series 7000 Spirahelic® Pressure Gauges employ a unique triple helix Bourdon tube for precision measurement of compatible gases and liquids.

The direct drive design reduces friction and mass, resulting in exceptionally good responsiveness, repeatability and accuracy. Because there are no gears, springs, linkages or other complicated mechanisms, wear is practically eliminated.

The Series 7000 has solid brass or 316 stainless steel connection block features convenient dual 1/4" female NPT ports-one each on back and bottom. Block also includes integral filter plug to keep dirt out. Safety is assured with solid front case design and rear blowout hole.

Gauges fit ASME standard panel cutouts, 4.94" (125 mm) -7100; 6.5" (165.1 mm) -7300.

Series 7000B Spirahelic® Direct Drive Pressure Gauges with turret mount housings feature a triple coil spiral/helical wound Bourdon tube to provide dependable service.

Bourdon tube design eliminates gears, springs, linkages and complex movements which can wear and cause inaccuracy or early failure.

Series 7000B gauges come standard with a dual-size 1/2" male NPT and 1/4" female NPT process connection.
Features
Direct drive design with single moving part maximizes lifespan and accuracy without the need to recalibrate
Elastic Bourdon tube resists overpressure and returns to original setting
Blowout hole prevents early failure from high overpressure conditions
Single element sensing means total lower cost of ownership because of long service life and lower cost to maintain
Specifications
Accuracy
0.5 % of Full Scale Grade 2A
Approvals & Certifications
Enclosure, Body Material
Black Polycarbonate Case
Clear Acrylic Cover
NPT Connection
1/2" NPT Male
Two 1/4" NPT FemaleField-Selectable Back or Bottom Connection
Pressure Range
bar: 0 to 68.95
kPa: 0 to 6,895
psi: 0 to 1,000
Temperature Range
-53.9° to 82.2° C (-65° to 180° F)
Wetted Materials
316L Stainless Steel Connection Block
Bourdon Grade A Accuracy Inconel X-750 Alloy Bourdon Tube
Brass
Inconel X-750
Systems with high cycle rates
Processes with problematic pressure surges and spikes
Environments with continuous vibration or shock