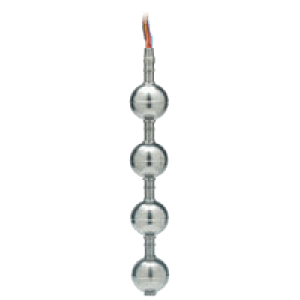 Images are representations only.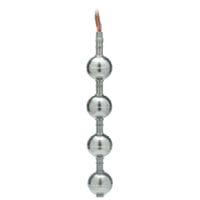 The Series F7-MQ Quick-Ship Multi-Station Level Switches provides a customized level switch to meet application requirements.

Switches can be configured with up to four different control points and stem lengths up to 72˝ (1.82 m).

Stems and floats are available in 316 SS or brass, SPST or SPDT switches, and choice of mountings.
Features
Customized level indication quickly and affordably
Rugged construction with multiple options yielding exceptional versatility
Capable of supporting larger, more buoyant floats
Durable construction asserts long reliability in contaminated or turbulent media
Specifications
Connection Material
316 Stainless Steel with Stainless Steel ARMCO PH-15-7MO Stops
Brass with Beryllium Copper Stops
Electrical - Free Leads
18 AWG, 24˝ (61 cm)
22 AWG, 24" (61 cm)
Electrical Connectors
Junction Box for Wire Leads
Fluid Specific Gravity
Minimum: 0.5
Minimum: 0.7
Materials of Construction
316 Stainless Steel
Buna-N
NPT Connection
1/2" NPT Male (Float F2, F3 Only)
1-1/4" NPT Male (Float F1 Only)
2˝ Male NPT (Float F2, F3 Only)
Stem Material
316 Stainless Steel
Brass
Supply Pressure - Maximum
psi: 150 to 750 (kPa: 1,034 to 5,171, bar: 10.3 to 51.7)
Switch Type
SPDT, .17 A at 120 Vac, .08 A at 240 Vac, .13 A at 120 Vdc, .06 A at 240 Vdc
SPST, .17 A at 120 Vac, .08 A at 240 Vac, .13 A at 120 Vdc, .06 A at 240 Vdc
Temperature Range
-40° to 149° C (-40° to 300° F)
Water Level Monitoring
Oil Level Control
Tank Level Control
Diesel Level Monitoring