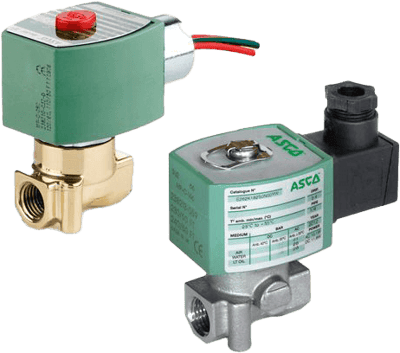 Images are representations only.
ASCO 262-S Series General Service Solenoid Valve
Brand:
ASCO
The ASCO Series 262/263, also known as 8262/8263, is a line of 2-way general service and specialty service solenoid valves available in brass or stainless steel.

These rugged valves handle media such as air/inert gas, water, hot water, steam, light oil, fuel gas, fuel oil, and cryogenic fluids.

The 262/263 Series are suitable for commercial and industrial applications such as car wash systems, dishwashing and laundry equipment, pumps, compressors, boilers, burners, food processing and many others.
Features
Resilient materials provide long service life and low internal leakage
Welded core tube provides higher pressure ratings
Wide range of elastomers for specialty service applications
Wide range of pressure ratings, sizes, and resilient materials provides long service life and low internal leakage
Reliable and proven in use design with high flow and pressure ratings
Lead-free versions available for Safe Drinking Water Act compliance
Low-temperature models control cryogenic fluids, including liquid nitrogen (-320° F/-194° C), liquid argon (-303° F/-184° C), and liquid oxygen (-297° F/-181° C)
Mountable in any position
Tapped mounting holes in body standard
Wide range of standard AC and DC voltages
A full range of globally approved explosion-proof enclosures are available with this series
Small poppet valves allow tight shutoff
Specifications
Flow
From 0.5 Cv to 1.0 Cv, from 0.1 Cv to 0.5 Cv, from .05-.1 Cv
Function
2-Way - 2/2 Normally Closed, 2-Way - 2/2 Normally Open
Media
Aggressive Liquids & Gases, Air, Inert Gas, Ammonia, Cryogenic, Fuel Oil, Hot Water, Light Oil, Liquid Propane Gas, Natural Gas, Oxygen, Steam, Vacuum, Water
Operating Environment
Corrosive, Hazardous, Indoor, Outdoor
Standards & Regulations
Class I, Div. 1, Class I, Div. 2, Class II, Div. 1, Class II, Div. 2, CSA, Typical 1, Typical 2, Typical 3, Typical 3R, Typical 3S, Typical 4, Typical 4X, Typical 6, Typical 6P, Typical 7, Typical 9, UL
Valve Actuation
Solenoid, Solenoid - Direct-Acting, Solenoid - Latching
Voltage
100 to 240 AC/DC Voltage Ranging, 110 AC, 115 AC, 12 DC, 12 to 24 DC Voltage Ranging, 120 AC, 120 DC, 125 DC Battery Charging, 208 AC, 220 AC, 230 AC, 24 AC, 24 DC, 24 to 120 AC/DC Volt - 50, 60