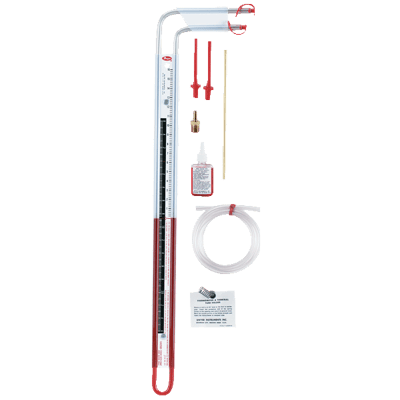 Images are representations only.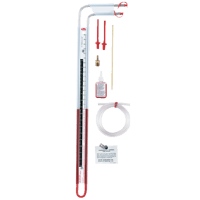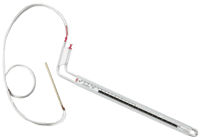 Use Series 1227 as a regular U-tube manometer to read high-range pressure on the right leg, or as an inclined manometer to read low-range pressure on the bottom leg.

Simply incline manometer until fluid levels read zero. No spirit level required. Magnetic clips hold the gage in position on a steel duct surface.

Most versatile and useful low cost manometer we know of. Designed for installation and servicemen.

A sturdy, clear plastic manometer, it offers single, direct readings in two ranges: As a U-tube, it reads from 0 to 16" of water; as an inclined gage, it reads from -.20 to 0 to 2.6" of water.

Model 1227M (Metric) is 0 to 400 mm water column as a U-tube and -5 to 0 to 70 mm water column as an inclined gage. "How-to-use" instructions are printed directly on the scale.
Features
Reads 0 to 16 in w.c. as a U-tube and -0.20 to 0 to 2.6 in w.c. as an inclined gauge
Clear, shatterproof indicating tube provides overpressure protection
Black markings on a stark white scale for positive definition
Specifications
Dimensions
1/4" Diameter x 8" Long - Brass Terminal Tube
Length
17" - Scale Long Inclined Manometer
4-1/2" Length of Tygon Plastic Tubing
Pressure Range
Inches WC: 0 to 16
Inches WC: -5 to 0
Fan Status
Filter Monitoring